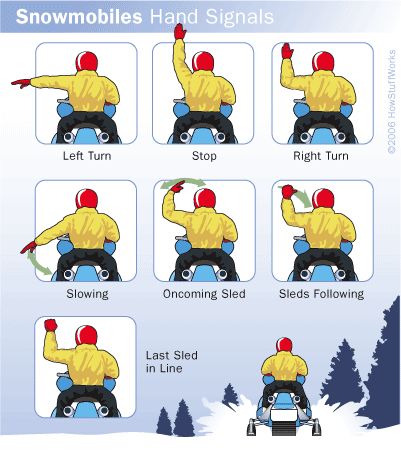 Use the buddy system – never ride alone.
Be sure of ice thickness – "if you don't know – don't go."
Use Hand signals – see diagrams.
Where possible, stay on marked trail.
Comply with all posted signs and speed limits.
Stop at all rail crossings. Never try to beat a train or vehicle, and cross at a right angle to traffic.
Travel at a sensible speed as to keep the group together, maintaining a safe distance between you and the snowmobile in front of you.
Operate with appropriate care and control at all times. Drive within the limits of your machine and your ability.
If you need to stop, pull off to the right of the trail so the other sleds may pass safely. Avoid stopping in corners or curves, it could be difficult for the other riders to see you.
Always keep sight of the snowmobile behind you. If you don't see it, slow down or stop until it's visible. If after waiting a reasonable amount of time and the snowmobile does not come into view, back track to see if there's a problem.
After crossing a road, climbing/descending a hill, or turning off a main trail, riders should wait to make certain that the sled behind them proceeds safely and observes what direction the group is heading. Leave enough room for the machine as not to restrict its approach.
Assist any rider that is in need of help.
Respect the environment – wait for enough snow to cover and protect vegetation, avoid running over trees and shrubs, and appreciate but don't disturb animals or other outdoor users. Leave tracks, not trash.
If at any time you encounter a problem on a ride, inform your group leader.